Opportunities for Educational Institutions
When at a school or university through a residency or guest artist arrangement, World Communities offers unique educational and institutional development opportunities, including the following:
The open-ended process of writing plays allows students from a variety of disciplines to also learn history while learning creative writing and theater through contributing to the research and creation of new works.
For residencies at schools with a theater department, we cause students to look beyond the footlights to that which inspires and informs their art, allowing for a well-rounded liberal arts approach to teaching the performing arts.
The creation of a locally inspired historic drama engages students in the world outside their classes, bolsters town and gown relationships, and leaves a lasting legacy for the school and its community.
Because of the public nature of our work, World Communities also raises the visibility of the institution in which we are based.
The residency offers an array of classes that otherwise might not be available, including playwriting, professional theater production, and international theater production, while looking to fill other class needs at each particular school.
Through summer workshops and international exchange programs for grade school students, we bring potential students to the campus.
Because our work is content-based and relevant, we provide unique fundraising opportunities for host institutions. World Communities has brought more than a half a million dollars to the schools where we have been based. Our work has been supported by the president of the Coke Foundation, the director of the Pennsylvania Historical and Museum Commission, and the Vice President of AT&T in charge of corporate giving.
We makes the host institution the international epicenter for a unique form of drama and the repository for information and case studies in non-fiction theater.
By creating plays out of area history, we bring local residents onto the campus.
We create symposiums and other special events related to, and inspired by, the subject of the play being produced. Some byproducts of the residency, like oral history collections, remain lasting and important historic artifacts for the institution and its community.
We attract noted speakers and guest artists through their connection to the subject matter of the drama. World Communities plays have engaged celebrities to speak on behalf of its production, including President Jimmy Carter, New York Governor Mario Cuomo, Habitat for Humanity Founder Millard Fuller, Penn State Football Coach Joe Paterno, and Georgia Governor Zell Miller.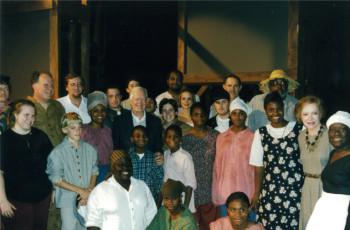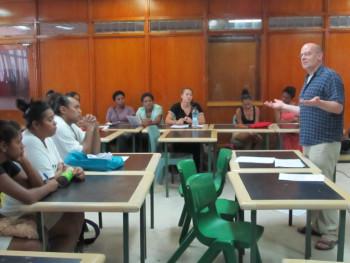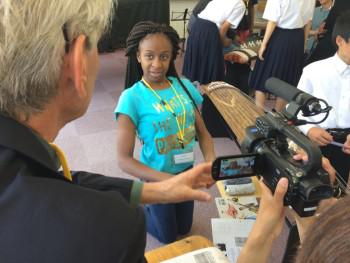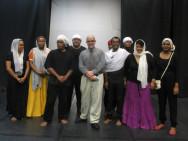 Residency
Examples of Residencies Include:
Georgia Southwestern State University
At Georgia Southwestern, the college that President Jimmy Carter first attended and from which Rosalynn Carter graduated, the eight-year residency produced two international and four regional plays, all fully produced to audiences beyond the university. The execution of the work brought in guest artists from Bulgaria, Cambodia, and Ghana, as well as noted theater professionals from Atlanta, New York, and Seattle. The residency generated more than $400,000 in grants and capital improvements for the school.
Fairmont State University
Fairmont State University in West Virginia, a one-semester guest artist program was implemented through two workshop periods. This residency included a full-semester course in playwriting and the development of an original play of regional significance.
University of the South Pacific, Suva, Fiji
Located in Suva, Fiji, the residency was accomplished through two, three-week visits one year apart. This allowed for the creation and implementation of a series of plays performed at an area diabetes clinic, the viewings of which were clinically shown to help the country's diabetes epidemic. The effort was funded by the International Diabetes Federation. A class in a unique form of playwriting was offered at the university, and work was begun on a play about the Girmit in Fiji. A series of lectures was offered to students and the public on the creation of non-fiction theater and how to use it as a tool for articulating a native form of cultural tourism.